A new week sees some familiar faces brought to the SEO battleground…
Winners 
www.boots.com
Recurring winner Boots continues its winning streak by reaping the benefits of the Google Core Update. As mentioned last week, boots.com has issues with its international.boots.com domain cannibalising for core brand term 'boots'. This further climb shows Boots to be addressing this issue.

www.thesun.co.uk
The Sun follows on its win from the previous week. The site is likely to be continuing its Google Core Update benefits by ranking for brand names and celebrities such as 'zayn malik' and 'harry styles'. The site also ranks for a commonly searched term 'calculator' this week. Since the sun brought down its paywall in December it has seen gradual gain in visibility. The site suffered a slight drop during the Google Phantom 3 update but is certainly seeing the benefits of Google's latest core update.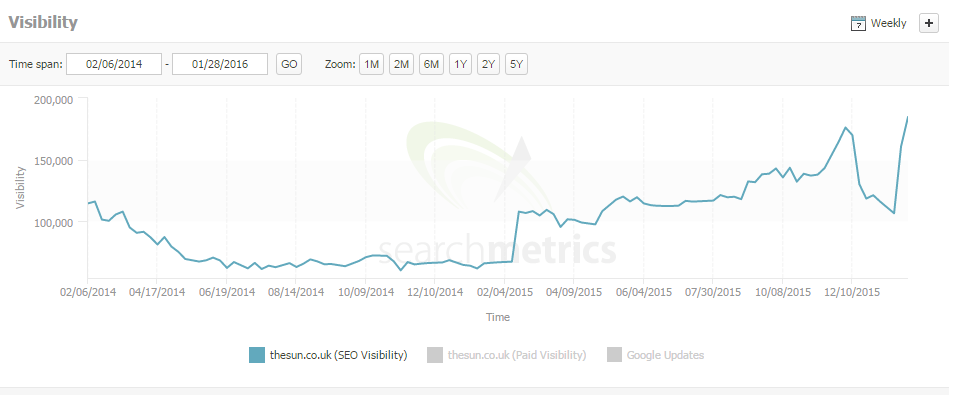 www.ultimate-guitar.com
The Ultimate guitar site has seen a slow and steady decline since the summer and then in December saw a short sharp drop as Phantom 3 rolled out. With the core update the site is regaining its lost positions and appears to be on the up. Gains are made for specific song based terms 'hallelujah chords' 'radioactive chords' etc.

Losers
www.worldlingo.com
Wordlingo has been experiencing a classic case of domain cannibalisation between its .co.uk and .com domains through a lack of effective hreflang implementation.


cityam.com
Business news site cityam.com appears to have seen the reverse of other sites seen in Battleground, making big gains around the time of Phantom 3 and then dropping them soon after the launch of the core update. What does follow trend is the terms in which the site has seen hostility, big brand names: 'london tube map' and 'ebay uk' etc.


nectar.com
Nectar has also suffered the brunt of Google's Core Update. As we mentioned the algorithm is Brand Keyword Related. Nectar's drops are all big brand names, a sign that Google doesn't deem this site relevant for those terms. The site also lost ranking for its sub domains URLS eshops.nectar.com.