Dictionary and translation sites take over our SEO Battleground this week, while old losers become winners…
Winners:
The go-to site for all your definition needs continues to climb up the visibility ladder as it's crowned this week's winner for biggest gain. We saw dictionary.com in last week's battleground as a winner, despite evidence suggesting duplicate content, having previously used both 'www.dictionary.com' and 'dictionary.com.' The site has now removed the 'www', which could be why they are seeing such high visibility. We also stressed that it isn't likely that's the only reason for the rise, and various technical issues were probably fixed on site to boost it so dramatically.

Quite often in our SEO Battleground we'll see previous losers regain visibility. Switching to a winner this week is translations website Paralink. Last week the site lost out on ranking for important keyword terms 'translate' and 'translator'. This week, data shows a huge boost for these terms and the site now ranks on Google's first page for them.

www.watchepisodes1.tv
A reoccurring contender in our battleground frequently featured as a loser, has now turned the tables and become one of this week's winners. We've explained the legality issues with online streaming sites and the hostile visibility they're presented with, we've also discussed that it is common for illegal steaming sites to continuously move domains in order to keep their services running. This is exactly the case for watchepisodes, which has now moved from 'www.watchepisodes.com' to 'www.watchepisodes.tv'. It will be interesting to see where the site stands next week with its new domain.

Losers:
There seems to be a common trend of dictionary and translation sites featuring this week. Similar to paralink and dictionary, reference runs the same type of website services. Its visibility ranking factors can potentially be related to certain generic and broad terms that it may rank or lose out on ranking for. The site usually sees decent visibility and it seems this week it has lost on generic terms such as 'what' and 'hi'. It has also lost out for the term 'thesaurus' which is a main product offering for the site. There may also be technical issues with the site to cause such a drastic fall.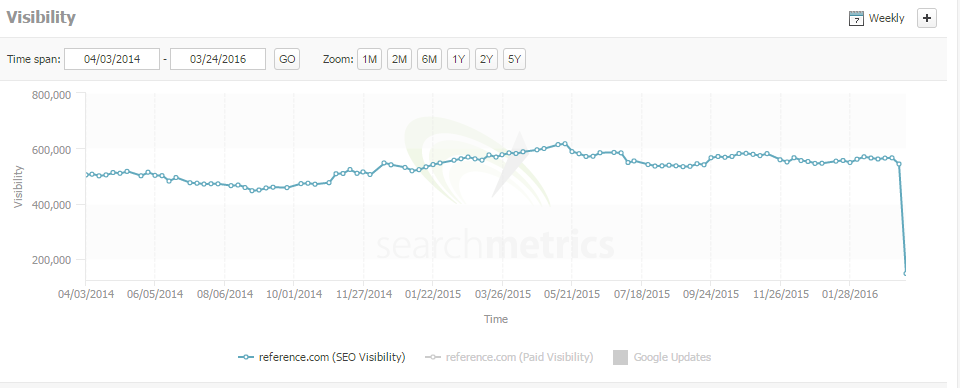 Pcworld has seen a sudden drop in visibility. A site check on google has shown their current indexed pages are redirecting to entirely different sites, however still featuring the product offering advertised. For example, Google will have a pcworld page indexed:

However it will redirect to an entirely different website:
http://www.crateandbarrel.com/organizing-and-storage/office-accessories/1
This is the likely reasons for their dramatic loss.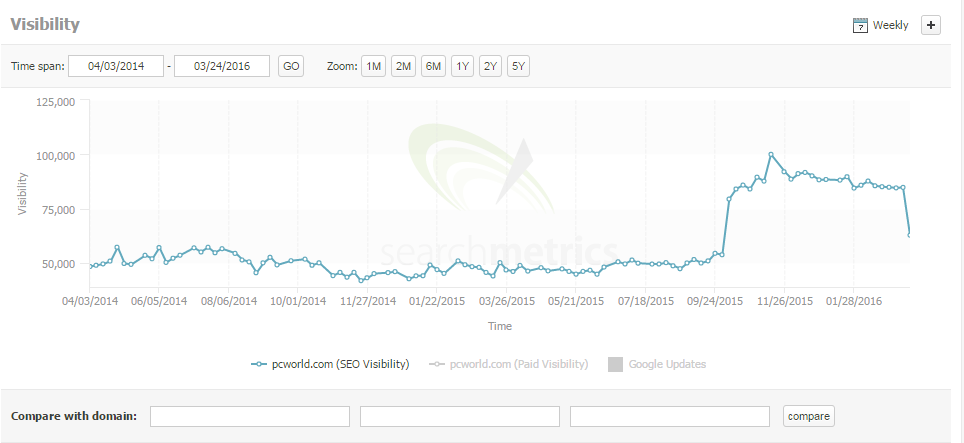 The online gaming site has lost out on visibility this week. Data suggests the site has stopped ranking for its brand term 'funny games' as all the main keyword losses are 'fun' and 'funny. Taking a deeper look, a competitor 'addictinggames.com' has started to rank for the brand term which is also contributing to why the site has lost some visibility.