Are you an on-the-go celebrity type with a legion of fans and too many @mentions to (Twitter) handle? Then you're probably the perfect candidate for this latest offering from the social media giant. Here's the lowdown on Twitter Engage (because fame and fortune could be just around the corner…).
Who
Designed for 'creators, influencers and public figures' (that's celebrities, to the rest of us), Twitter Engage promises to make daily interactions with fans and other influencers easier for its users.
Although it's clearly of benefit to the rich and famous, unlike Mentions – Facebook's similar celebrity offering, which requires a verified account to use – Twitter Engage is available to all.
What
Described by Twitter as a new companion app, Twitter Engage is essentially a real-time provider of data and insights about your tweets and followers. The app is split into three tabs…
Engage – Displays your most important interactions on Twitter and includes mentions from your verified followers, those who are followed by a lot of your followers and those who interact with you frequently.
Understand – Offers high-level analytics for your posts, in real-time. This includes how many impressions you've been getting, your own recent Twitter activity and data about your audience.
Posts – Here you'll find detailed performance metrics for individual posts, videos, photos, GIFs, and other tweets.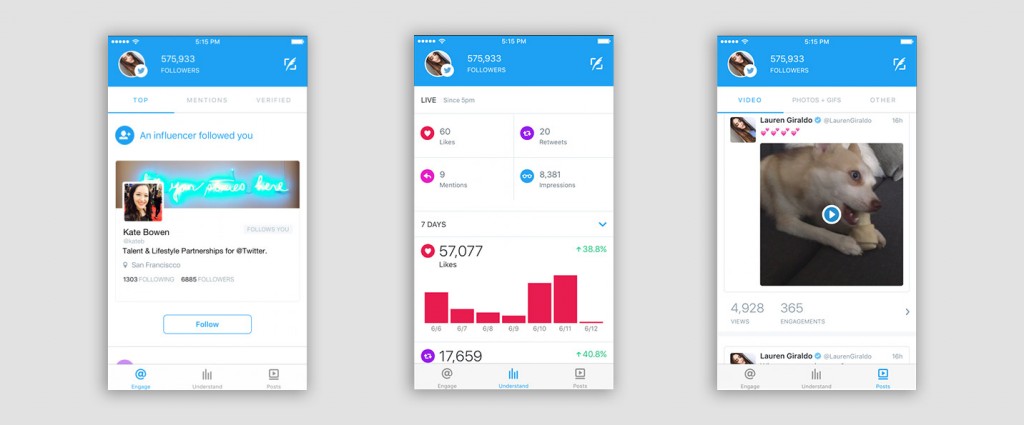 Why
How does Engage make Twitter life easier for the celebrity elite? With its simple dashboard, users can delve into detailed engagement and performance analytics with ease, as well as benefit from the option to snoop that bit deeper into the demographics of their fans and what they are tweeting about.
What's more, users can sift through the noise to identify what their verified/top followers have to say and use the insight provided by the app to allow them to better engage and connect with their followers and fans; ultimately helping them build larger followings and enjoy Twitter success.
So will Engage be a hit? And perhaps more importantly to us, is there value in it for big brands and marketers? Currently available on iOS in the United States only, Twitter have claimed that this launch is only the beginning, with planning for integrations with some of their partner brands already underway. So, celebrities (and we mere mortals) should watch this space.