This week we see previous contenders and offenders reappearing in our battleground…
Winners:
Tripadvisor.com takes this week's top spot in terms of overall visibility gained. The site has seen steady visibility with brief peaks throughout 2014 & 2015, this week the already monolithic site has shot up again. Not set with just ranking for holiday based terms and properties that holiday makers may wish to visit, the site is now seeing huge boosts for core city terms, ranking on Google's first page for terms such as 'Paris', 'Rome' and 'Florida'.

The Sun continues to prosper having dropped its paywall to users in 2015. A constant flow of fresh celeb based content means the site is regularly visited by Google's crawlers and despite seeing drops on huge terms ('yaya toure', 'linked in', 'the mirror') as articles age, the site sees more gains on equally important and even bigger terms.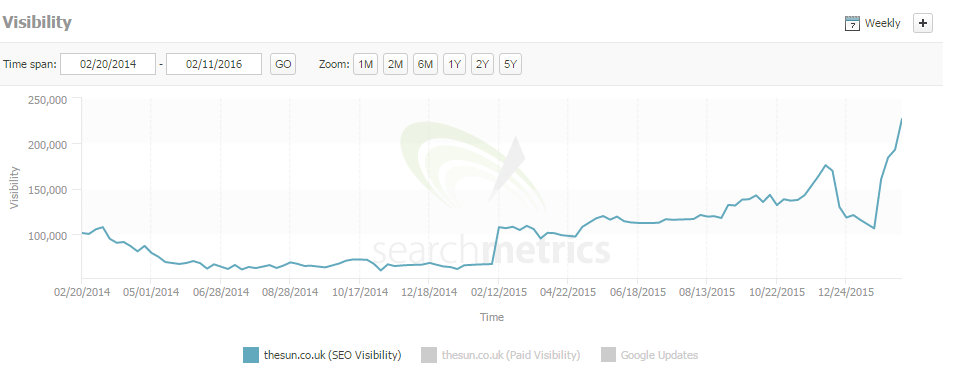 Following a previous appearance in our battleground, vanityfair.com has switched from our losers to a winner this week. Vanityfair.com suffered a huge drop after Google's Phantom 3 update, as well as many other news sites and has since risen. The site's recovery certainly seems to be as a result of the Core Algorithmic update and again fits the bill as key ranking movement is seen for brand and name terms ('the guardian', 'Michael Jackson', 'Uber' etc).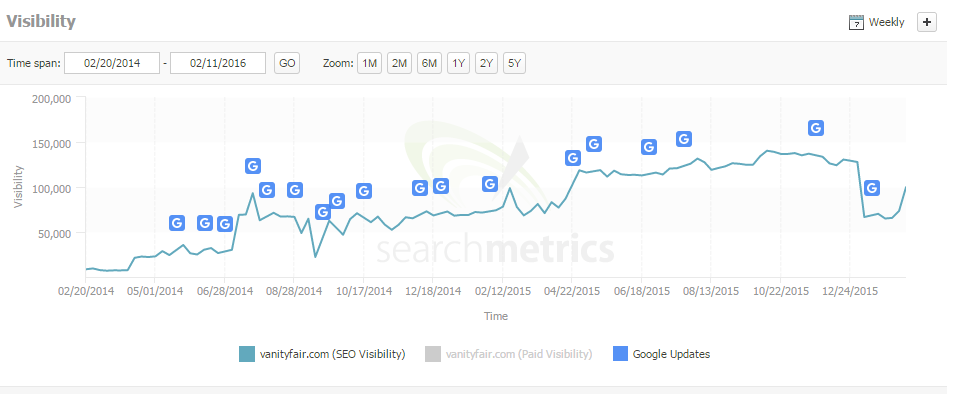 Losers:
The video streaming giant has dipped in and out of our battleground over the past month as both a winner and loser. YouTube.co.uk returns with one of the biggest losses in visibility this week, following the same patterns as before. There has been a recurring issue with YouTube's .co.uk and .com domain as they both compete for brand term 'YouTube'. It is important to note that .co.uk's takeover only takes place in the UK, whereas internationally .com is dominant.

Again the leading weather update service Weather.com appears in the SEO battleground. Snapshots from the Wayback Machine show the site to have undergone a hreflang restructuring with its /en-GB/ directory only beginning to appear since December 2015. There also seems to be issues with Google not recognising which page to rank for core terms, 10 Day Weather Update pages and Daily Update pages throughout the site seemingly competing for the same terms.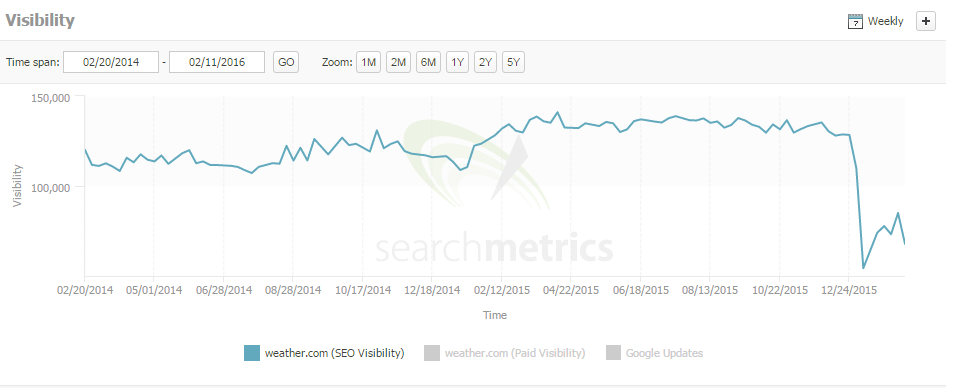 Trainline-europe.com reappears in our battleground for issues similar to the ones faced by YouTube.co.uk. The site is suffering turbulent visibility due to dropping in and out of key terms but mainly suffers due to battling for brand term 'trainline'. Trainline.com appears to be cannibalising trainline-europe for this time, resulting in an overall drop for the site.