September 2015 saw global photo and video sharing site, Instagram, launch its widely-anticipated sponsored ads. With 400 million users worldwide, the platform now allows advertisers to directly target users with paid ads, to drive revenue as well as increase followers.
Fast forward to June 2016, and a study released by Stata claims that Instagram advertising has now overtaken Twitter. For most advertisers, this will represent a big shake up in terms of how they should approach their social campaigns, so to figure out the benefits of Instagram advertising, our SEM team carried out a series of tests. If you're short on time, jump ahead to the end of this post for our four top tips!
How we did it:
TEST 1: MESSAGING
There are five elements that make up each ad unit on Instagram's platform: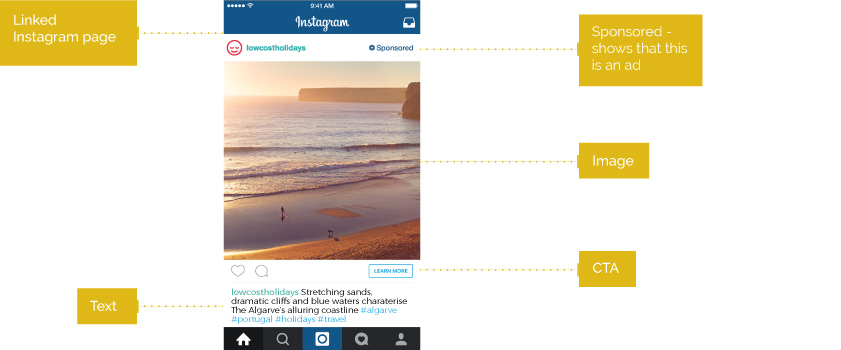 For this test we ran with four variations of one ad over four weeks. We kept the image the same, but added different elements into each ad, such as logo, price point, sales message, and product information. Our aim was to answer the following questions:

• What type of message works best alongside creative to increase engagement?
• Does displaying the brand logo improve or decrease the likeability of an ad?
• What call to action button works best for driving visits to the site?
Learnings
Results showed that the ads most similar to regular Instagram posts had the best click through rate (CTR), engagement rate and had relatively low cost per click (CPC). Neither of these ads had a sales message and both used the 'learn more' call to action. Inclusion of a price point and overuse of a call to action actually led to the lowest CTRs and these ads were also less engaging (and more expensive!). In fact, using a 'book now' call to action button actually led to a lower click through rate, compared to using 'learn more'. We also found that adding any text elements on top of the image itself was detrimental to engagement, especially destination information, which suggests that it is best to keep imagery alone and separate from copy.
TEST 2: IMAGE 
Next, we shifted focus to the core imagery. We wanted to find out which image types led to higher engagement, and to do this, tested bright images, darker images, landscape images and focus point images over the course of four weeks, targeting the same audience throughout. Here are some examples of our test ads: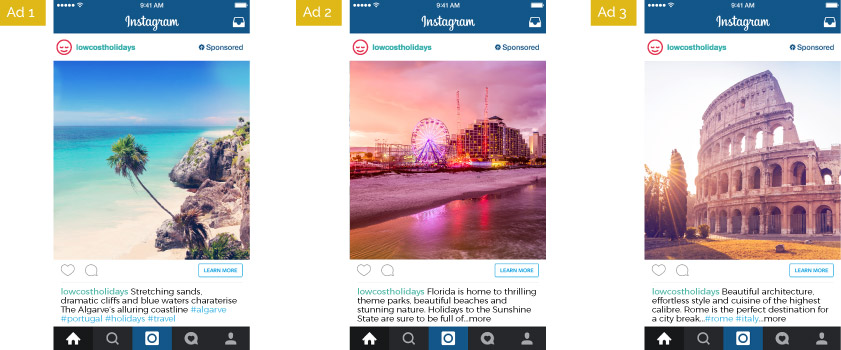 Learnings
Results showed that imagery was by far the most important element in terms of influencing the success of an ad, with engagement rates varying significantly between 4.2% and 2.14%. Ads with bright, landscape images with a focal point had 114% higher engagement rate than darker colours, night time and landmark images. Users were more responsive to scenic photography, which supports the theory that inspirational imagery, typical of a normal Instagram post, is more engaging.
TEST 3: TARGETING 
Lastly, we tested Instagram ads across two targeting methods to measure engagement (the number of likes, comments and shares of the ad, in comparison to how many users saw it)…

Users familiar with the brand (remarketing)         VS         New customers (prospecting)

Learnings
One of the most prominent findings was that engagement rates were higher on prospecting than remarketing (4.16% vs 1.75%), bucking the trend for most social platforms. We believe this was down to small remarketing audience sizes, for which the ad would have 'worn out' faster vs much broader targeting on prospecting. In fact, the prospecting activity gained 341% more followers during the 4 week period of testing!

addmustard Top Tips
1. Make your Instagram ad look as organic as possible – no obvious sales messaging!
2. Use bright, creative and inspiring images for better engagement
3. Target new users on Instagram, rather than expecting sales from remarketing
4. Use Instagram ads to gain followers quickly