In part one of this blog duo, we wrote about how to make the most out of the elements used for basic ad copy. In part two, we're going to talk about ad extensions.
The main extensions that can be used are:
Sitelinks
Location
Call
App
Review
Callouts
Structured Snippets
Price (Google only)
Image (Bing only)
In order for your ads to look the best they can and really stand out against competitors, we highly recommend that you utilise as many of these as possible. It's also crucial to ensure you've customised them properly: a click on an extension is the same as a click on the ad – it costs the same!

Let's go into a bit more detail about each one:
Sitelinks
Sitelinks are separate links that appear underneath a standard text ad. These are used to help promote other elements of the business. They also aid the user to find exactly what they're looking for, with links to different pages of the business's site.
Example: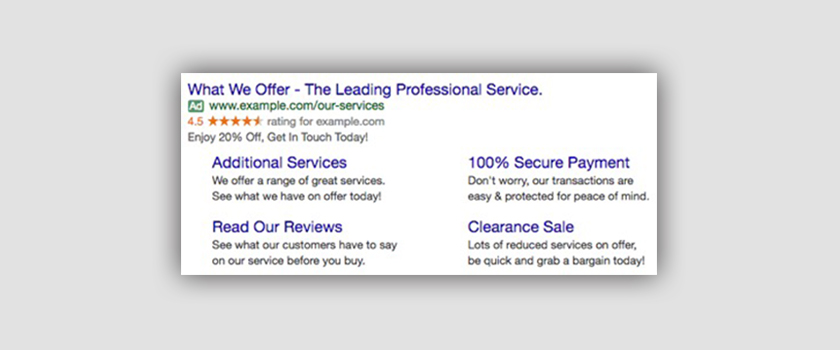 Much like text ads, making sitelinks as relevant as possible to your business in terms of what they say and where they link to will be the deciding factor on those extra conversions or potential new customers. You can make as many sitelinks as you require, however a maximum of 4 will be displayed with your text ad.
Location
If your business is registered with 'Google My Business', you can add the location information as an extension to your text ad in Google Adwords.
Example: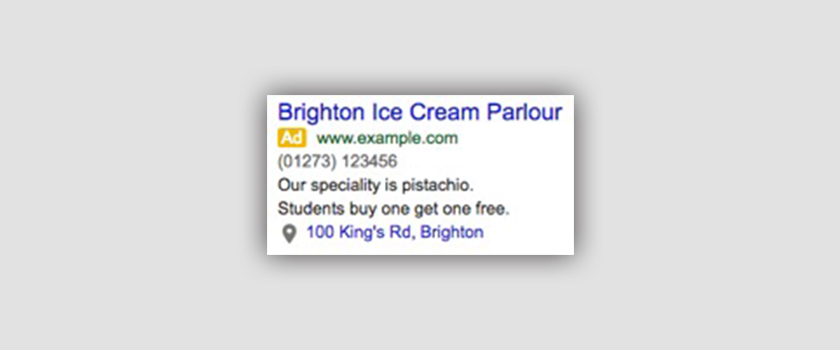 You can add multiple locations and assign each address as separate extension across different campaigns & ad groups if required.
These work really well on mobile, as users searching for particular services on their mobile are often searching for a nearby location on the go. For this reason, optimising your location targeting could really benefit your campaigns.
For Bing Ads, business addresses are added into the extensions tab. When using multiple locations, Bing will automatically show the closest location to the user, based on their location.
Call Extensions
Want to drive phone calls to your business? With the use of call extensions, you can have a call button next to your standard text ad so that mobile users can call your business directly from the ad. These can also be used on desktop but it only shows the business's phone number next to the display URL.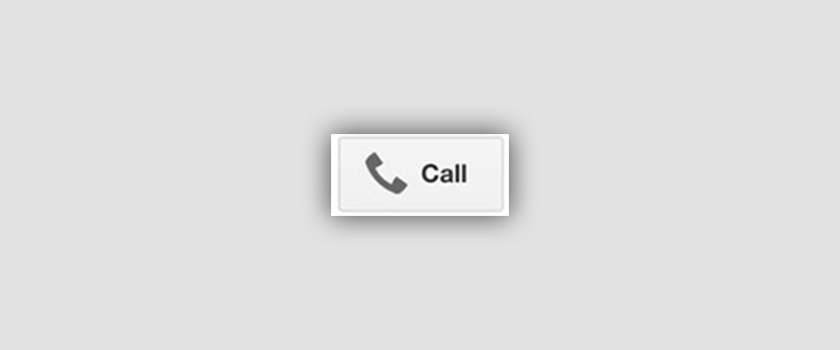 App Extensions
If your business has an app on Google Play or the Apple App Store then you can directly link to it at the bottom of your text ad. It will be displayed with the app icon and linked text to download it. This is, naturally, a great way to help boost downloads of your business's app.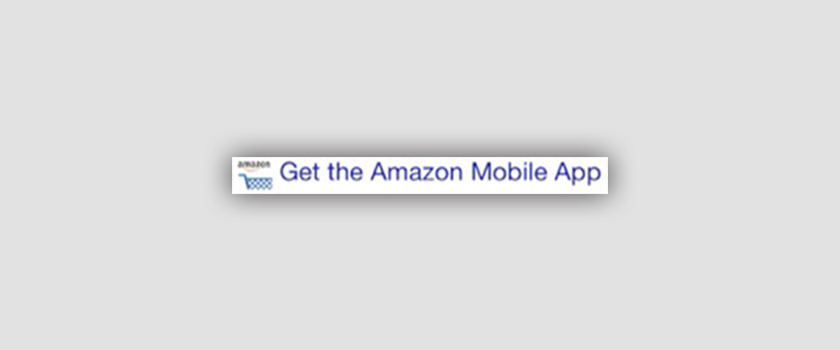 Review Extensions
If your business has been reviewed on another website, these can also be shown within your ads. Potential customers frequently rely on previous reviews and comments before they purchase, so adding these in can help in achieving more clicks on your ads. These can be quoted or paraphrased, or entered as exact quote reviews, dependant on character limits.
Example: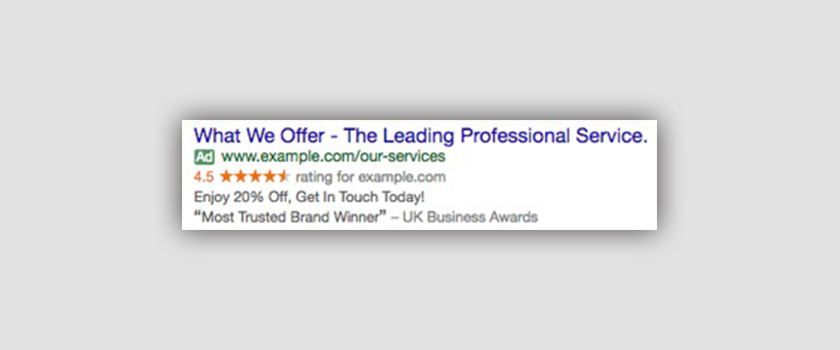 Like in the example above, if your business has won an award and it's mentioned on a website, that's exactly the kind of thing you can use as a review extension. They currently only show on desktop ads.
Callouts
Callouts are meaty little bullet points of text that show at the bottom of your ad. These are a great way to get any business promises, guarantees, USPs or information across. Each callout has a 25 character limit.
Example: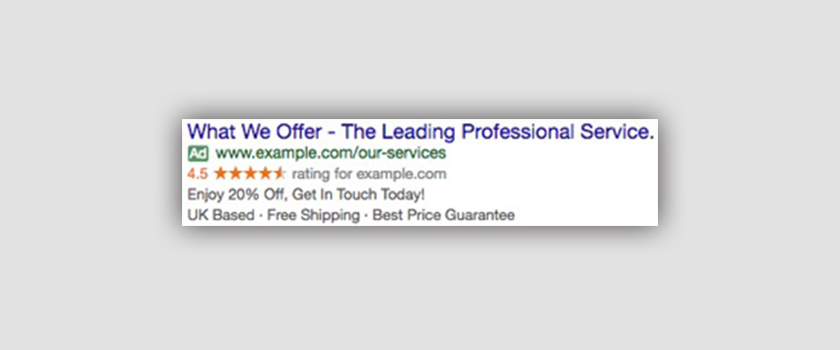 Structured Snippets
These are used to describe certain features of your business or particular products and services you offer. Google offers these in certain themes or "headers", and as the advertiser, you pick the one most relevant to you and add the values in list form. The header subjects with examples are the following:
Amenities (features or facilities of a building or place)

Brands (brands offered by the business)

Courses (educational classes offered)

Degree programs (course of study within an institute)

Destinations (city or country names only)

Featured hotels (hotels the business sells)

Insurance Coverage (specific insurance coverage types only)

Models (in relation to car dealerships only)

Neighbourhoods (sub-regions or districts only)

Service catalog (services the business offer)

Shows (performances or tv shows)

Styles (values of a specific category)

Types (variations of a product category)
For example: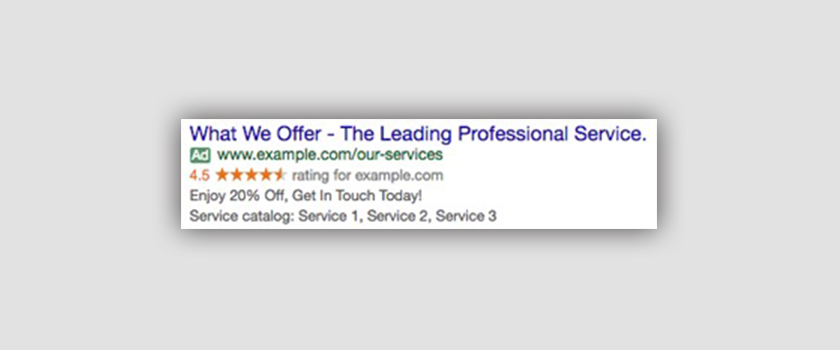 As you'll see from the example these headers will show underneath the text ad. Although these might not work for all business types, it's certainly worth customising and adding them if they fit your business. Any extra information you can get across to the user in your ad is definitely worth a shot.
Price Extensions (Google only)
This is a new feature within the Adwords interface. These extensions allow the advertiser to show unique products and services underneath their ads, with price points that link to specific pages. Currently only on mobile, they are sorted by categories much like the structured snippets. You pick one, then add a title, description, price and link. These certainly have the potential to lead to much quicker conversions, as the user already knows how much an item is going to cost before so much as clicking on your ad.
Example: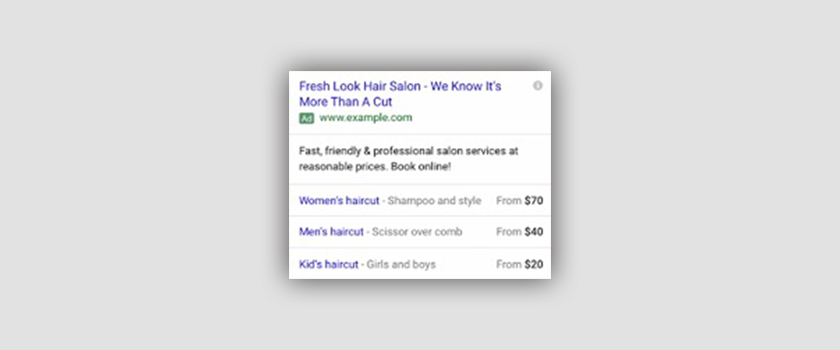 Image Ads (Bing Ads only)
Giving you the option to put an image next to your ad text, Bing have done something Google didn't pursue, and it's a great extension to have! You can choose to upload an image in 4 different sizes and if your ads appear at the top of the page, then so will the image.
In our opinion, this makes the ad look less like a paid ad, which isn't a bad thing! Bing ads tend to look bigger than Google's anyway, so adding in an image definitely helps your ad to stand out amongst the competition. In true Bing fashion, these can only be set at ad group level, but that makes for a good excuse to use only the most relevant images for your themes.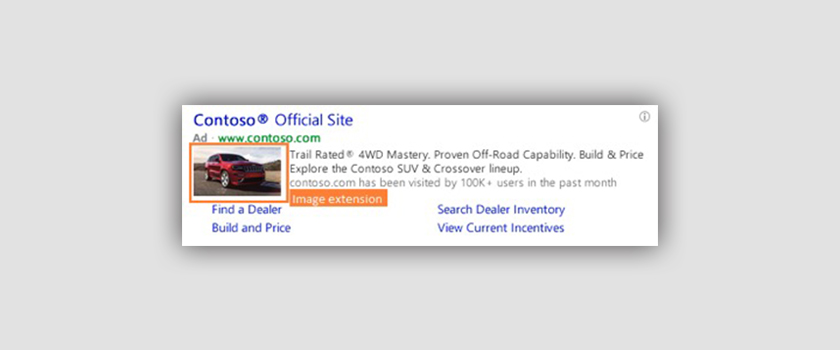 There you have it! With such a varied choice of ad extensions, you'd be silly not to use some, if not all, of these. It's also worth noting that some of the different ad extensions will show alongside the ad at the same time. Imagine an ad showing a call extension, sitelinks, callouts and structured snippets all at once – If that doesn't get a click, then we don't know what will!
Get in touch with our Biddable Media team for any further support on Ad Extensions, or find us on Twitter and Facebook.