Permitting that you realise this isn't a joke and you haven't clicked the back-button out of Kanye related-hatred, where do we begin?
He's perhaps best known for his award show interruptions and questionable proclamations, rather than his insights into digital marketing. However, there's a lot to dissect and learn from the man who has had one of lengthiest and most consistent careers in pop history. The best place to start has got to be where he's created a lot of noise lately: social media.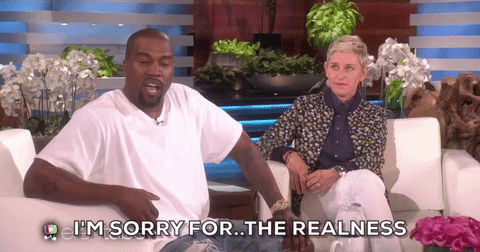 UNDERSTANDING THE POWER OF SOCIAL… AND USING IT WISELY
"No one man should have all that power"
Now the obvious caveat is that Kanye West brings with him the media spotlight and some 23 million followers on Twitter alone, so it's easier for him to create noise and engage with a wide audience. However, he still offers some useful lessons about how we share and interact on social alone.
Mix things up: Posting the same content over and over isn't going to garner a return. Kanye varies his content, and also the velocity of it. His notorious Twitter 'rants' come thick and fast, followed by quiet phases, emerging to share a release date or image. Translated to your brand, this could mean live tweeting a relevant event, to Periscoping a product launch or even something as simple as the view from your head offices.
Don't be afraid to be personal: Kanye made headlines by using Twitter as a means to announce that he is/was $53 million dollars in debt. An extremely personal revelation, but one that again put him in the eye of the public and cleverly drew attention to his new album. Now, we're not suggesting your digital marketing strategy should reveal company finances, but adding a personal touch can boost trust and uncover the face behind the brand.
Share the content of others: Avoid keeping everything centred on your own brand when it comes to your social accounts. Kanye doesn't just share links to his own music videos or songs on Soundcloud because more often than not, he's sharing songs from other artists, in fact he even shared his favourite sofa!
If there's a piece of content that will be relevant or valuable to your audience, then share it! This not only cements your profile as follow-worthy, but builds the image of your brand being 'in the know'.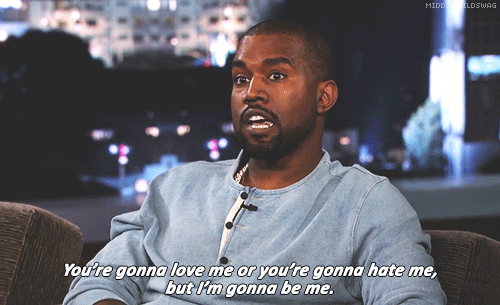 KEEP THINGS FRESH
"Her man in the store tryna try his best, but he just can't seem to get Kanye fresh"
From one album to the next, it's undeniable that Kanye consistently changes his sound to move with the times and stay relevant. Any track from 2013's dark and aggressive Yeezus (aside from maybe Bound 2) is in a whole other stratosphere to the chipmunk-like samples that launched him as a hip-hop icon.
While your own industry may be pharmaceuticals or finance, for example, the mantra of keeping things fresh to stay relevant needs to apply to all of your marketing channels. Web design should regularly be refreshed, evergreen content pieces need to be revisited and when it comes to PR, trying something different is always a good idea.
In a world where attention spans are shorter and the volume of creative content much higher, keeping up (and beyond that, being original) is essential. 
THE GREAT COLLABORATOR  
"I told Jay I did a song with Coldplay, next thing I know he got a song with Coldplay – back in my mind I'm like damn, no way!"
Kanye made his name as a producer and rapper through his samples and collaborations. Borrowing from someone else shouldn't be seen as a bad thing, and collaborating with people to amplify your content and overall marketing output is something wholly worth considering.
Just like adding features to a song, collaborating with influencers to create content can make it a stronger piece and also put it in front of more eyes – meaning boosted visits and opportunities to market your business to a new audience. When Kanye collaborated with Paul McCartney, it brought the attention of McCartney fans to West and his music. Albeit on a smaller scale, if you were to get an influential food blogger to create a recipe out of your product for instance, their audience is suddenly yours, too.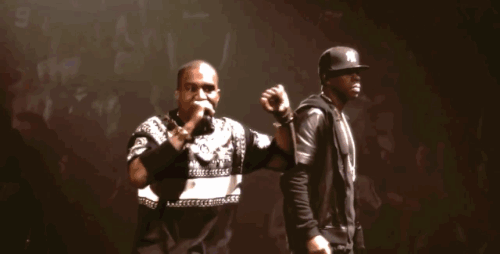 ALL ABOARD THE HYPE TRAIN
"Yeezy season approachin" 
Kanye coined the term 'Yeezy Season', a statement now widely used whenever the man himself is releasing new music, or a new piece of his fashion line. In short, Kanye hype has reached fever pitch, and the release of The Life of Pablo is the most recent example of this.
Again utilising the power of social media, track-listings scribbled on lined paper were teased, album titles were changed and free songs were dropped out of the blue. All culminating in an 'album listening party cum fashion show' at Madison Square Garden which was, of course, live-streamed to sold out cinemas around the world (seriously).
The album was subsequently released exclusively on the streaming service TIDAL, which more than doubled the existing sign-ups and rocketing it to the top of the app store. When the album was finally released on Spotify following a six-week run on TIDAL, it was the first album to go number one from Spotify streams alone.
The key learning? Don't underestimate hype and the potential gains from throwing an aspect of exclusivity to the mix. While your product may not be seen as exciting as a new album, competitions or exclusive product trails can be a great way to start. For any product launch, PR is your greatest tool for creating hype. Use it to build up to the launch of the product and campaign, and if possible, create a scramble to be a part of it.
CUTTING THROUGH THE NOISE TO STAND OUT
"There's a thousand you's, there's only one of me"
Whichever market you're in, it's likely that it's highly saturated with competitors all trying to do the same thing.
Take a look at how Kanye brands himself and his work. It is deliberately positioned to go against the grain and stand out, with 2013's Yeezus album artwork being our case in point. Other musicians make painstaking efforts with their artwork, and instead, Kanye decided to ditch it completely, leaving a transparent CD case and CD that looked exactly like those rewritable ones you have lying about at home. On a shelf against the various colourful album covers, there's only one that stands out.
This approach can be applied when planning campaigns. The press loves an alternative story, especially one that is tied around an event such as Valentine's Day or Christmas, as most of the content is highly predictable year in year out. If you can do something slightly unconventional that ties in your product, then you're most likely on to a winner.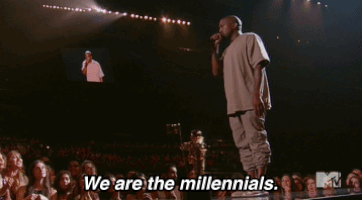 ONE LAST THING… DON'T FOLLOW HIS LEAD COMPLETELY
Whether you're an avid fan or can't stand the sound of his name, it can't be denied that the man is a master of marketing, with an output that can be learned from. That's not to say there isn't one gigantic flashing warning sign: don't follow his example on everything. With all of the good, there are still quite a few things to avoid outright, such as:
Interrupting speeches at award shows
Over-hyping your product (remember 'This is the best album of all time'?)
Comparing yourself to God, Pablo Picasso, Walt Disney and other momentous historical figures
Making highly questionable statements.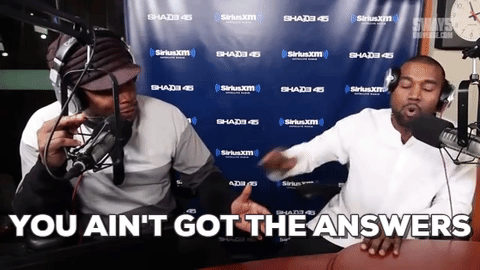 Beyond that though, let Yeezus guide you… your marketing could benefit!