Remember optimism?
All around us doom and gloom. Investors tightening funding, boards cutting budgets, CFOs trying to preserve cash.
The good news? Your competitors are running for the hills.
But then again, who can blame them, when this is your average front cover.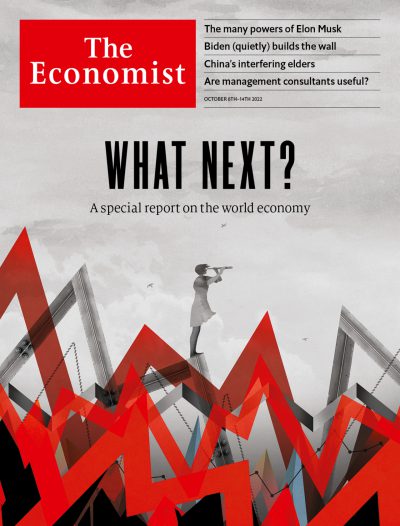 The last thing on your mind
So, who right now, wants a conversation about brand? We guessed so.
But we don't want to talk about brand in the way that you might think.
We want to talk to you about the performance of your brand. How it can deliver fast and measurable impact on your profits, growth and the value of your business. Right now.
The Multiplier Effect
Now, you know, better than anybody else, that your brand is really, really important. You know that it should sit at the heart of everything you do.
It should be derived from your ethos. It should drive your ethos.
Your brand should link all communications at all levels, internally and externally. From your content, website, creative and customer communications, to your team, marketing channels and platforms.
You know all of this. Because it's the right thing to do. Isn't it?
It's a very, very mad world
Has anybody ever actually sat you down and given a real, tangible, bottom-line reason for building your brand performance?
Has anybody ever demonstrated – with data and science – the short and long-term business benefits (ROI) of linking all your marketing and internal activity through one brand?
Has anybody ever told you how the actual value of your business is linked to the value of your brand?
And have they told you how you can grow it?
We will.
We're talking conversion, content and search engine rankings. On and offline advertising, performance, customer experience and customer retention.
That is what brand is today.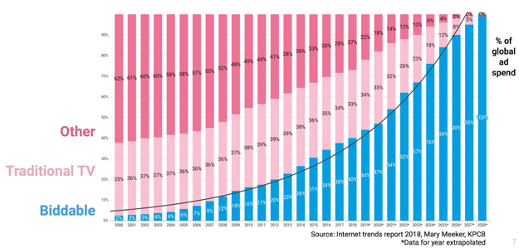 The world of marketing has changed and we want to work with you to help you keep up with it.
To out-market your competitors. Not by spending more, but by spending smart.
We want to let you into a secret
"Brands are the most valuable assets many companies possess. But no one agrees on how much they are worth or why" The Economist
We cannot find any realistic data since 2013 which shows how brands are financially valued, presumably because there was no real, believable data around. Until now.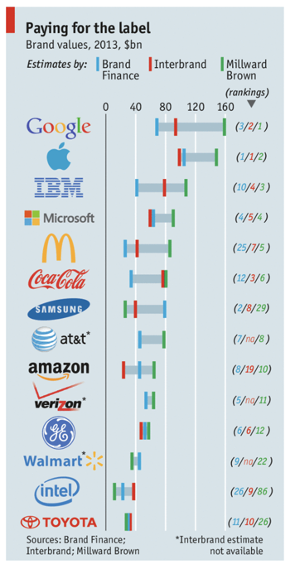 Mark Ritson, a respected marketing Professor (MIT, London Business School & Melbourne) with 158,000 Linkedin followers, says that you cannot measure brand value.
We're up for the challenge Mr Ritson.
So what's the secret?
Which is the most powerful advertising media company in the world today?
Probably Google.
Newscorp, ITV, Canal+, RTE, Sky and Lord Rothermere used to give share of voice data to measure awareness, reach, consideration & propensity (the preferred legacy methods of measuring brand).
Now Google and other digital platforms measure your brand performance in almost identical ways. Just more accurately. And probably more reliably. They also reward your brand performance, with lower media costs, greater reach and higher conversion.
All of which translates into hard, financial brand value, which we can help you measure.
A different way of looking at things
We believe we have something unique.
Now, stay with us.
We at addmustard have been working with a range of clients and their advisors on an entirely new way of building real brand value to dramatically improve marketing efficiency and ultimately, the value of their businesses.
It's been road-tested with a B2C entertainment business, an online technology retailer, an experiential holiday company and a luxury retailer to quantify the current and future value of their brands.
We have used the model, tools, data and methodology to increase balance sheet value to drive business growth and performance and to make smarter marketing decisions.
And also for the boring but important "stuff" like forecasting, budgeting, re-financings, disposals and acquisitions. All of this work has been signed off by beady-eyed CFOs and cynical reporting accountants.
Independent, experienced media organisations have informed us that this is the first time that they have seen a balance-sheet-based approach to quantifying the real value of a brand.
Data, data everywhere
Let's be honest, we're all a bit bored of technology that helps measure more and more things in our lives.
Like the amount of orange juice in your fridge. Or your heart rate. Or your mother-in-law's heart rate.
But what if you could measure the real, tangible, absolute value of your brand? Imagine if you could work out how to make it perform better, because you know what it's worth.
We have the answer.
Keep your head, when all about you are losing theirs
In a nutshell, here's how we do it.
The real value of your brand can be reflected by the margin that your business earns (and will earn in the future) from the transactions attributed to all of your brand related traffic.
We use software tools to crawl your website and domain and filter all of the direct, brand and brand-related traffic. Just like Google and other digital platforms do (sometimes without you knowing).
We then analyse historic conversions and repeat purchase rates and multiply these by gross margin and apply those to your aggregated, brand-related traffic.
This gives us the value of historic transactions and margin earned purely from your brand; we then apply performance "modifiers" and project the value forward over say, 5 years.
We apply a discount factor and deduct marketing & technology costs required to maintain (or grow) the brand related traffic and produce a NPV (net present value) of the net contribution driven by your brand.
We then analyse the replacement cost of the aggregated brand related traffic and assets, add this into our NPV and bingo (or should we say kerching) we have the value of your brand. In pounds & pence (or maybe that should be dollars & cents these days).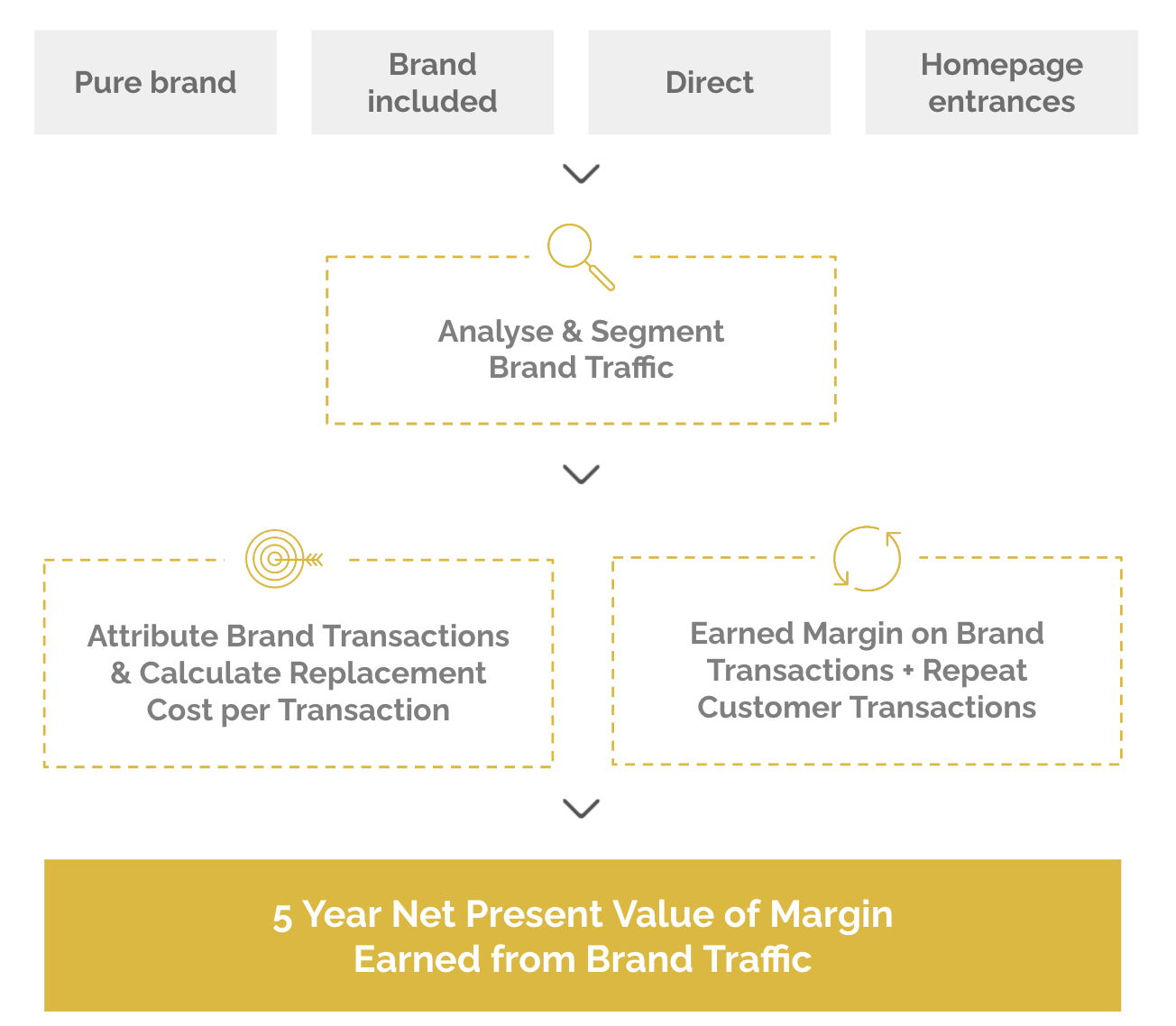 The real bottom line
This method has helped many addmustard clients realise the value of their brand. Which in turn, helps them realise the true value of their business.
Here's one we did earlier to give a sense of how valuable your brand can be.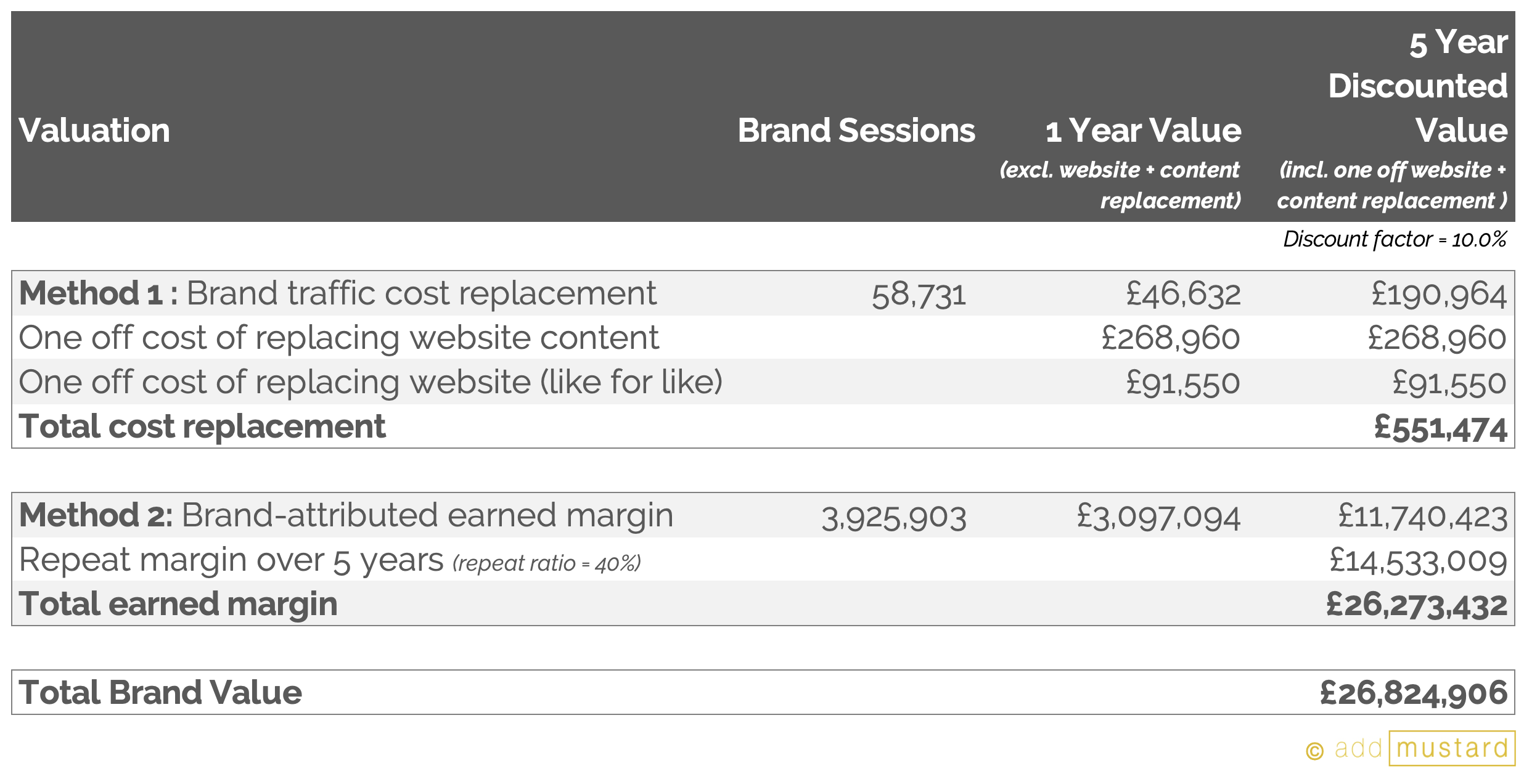 A good, old-fashioned call to action
No email can really do justice to the effect that our methods can have on your business. Or you.
Please feel free to get in touch at lawrence.hunt@addmustard.com, or +44 7767 476320.
I'd love the chance to take you through our thinking in as much detail as you could possibly want.