BrightonSEO is the highlight of our social calendar at addmustard, and this year did not disappoint. From keywords to content, we're all clued up and ready to take on another year as Brighton's expert digital marketing agency.
Held in the conveniently located Brighton Centre, this year the conference played host to a number of fascinating and insightful talks as well as our very own game of Buzzword Bingo. Asking attendees to listen out for the jargon we all use but love to hate, we offered a whole host of brilliantly "Brighton" prizes to keen listeners who picked up on 4 or more buzzwords – and a very special prize for players with a full house. The winners were announced over on our twitter – congratulations, bingoheads!
Despite the excitement of Buzzword Bingo, we still managed to attend a wealth of talks and have plenty of wisdom to bring back to our office. Check out some of the team's standout moments, plus the pearls of wisdom they have for wannabe digital marketeers who plan on attending the conference next year…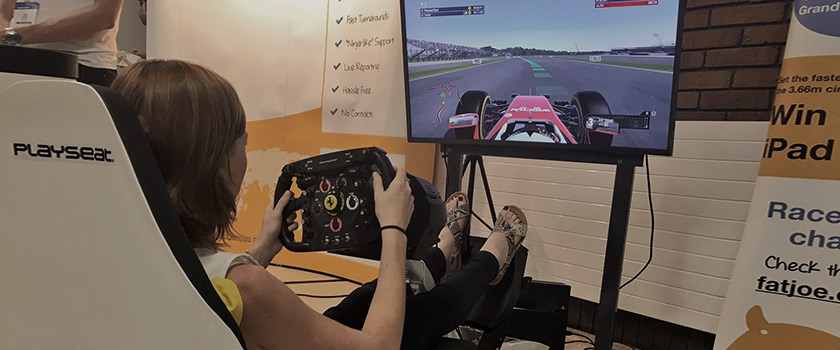 Dina – SEO Analyst
Highlight: My highlight was Greg Gifford's talk on "How to be a Facebook advert superhero"- it   was engaging, fun and really insightful. Plus, who doesn't love a superhero meme?!
Top Tip: I'd advise anyone attending the conference next year to go to a talk they wouldn't necessarily choose – you might be pleasantly surprised."
Emily – Junior Content Executive
Highlight: Hannah Smith's talk was really interesting – all about creating content that actually resonates with your reader, rather than trying to answer a question that's not been asked!
Top Tip: Always make sure you arrive early to secure a seat, the conference rooms are a lot smaller than you'd think. And if you can't make a talk, check out their slideshow on the BrightonSEO page after because they're worth a read"
Tom – Senior SEO Analyst
Highlight: I had a good time at Malcolm Coles' talk on SEO for news and the frustration Google can cause when indexing/not indexing updates. Also, the barriers that the cache on their CMS creates when setting new content live as soon as possible. Hannah Smith in the early talk was really good, talking about outreach pieces and emoting a connection with the user rather than focussing too much on what the piece is.
Top Tip: Try to see a broad range of talks, see things that aren't specific to your work stream
Elliott – Senior Content Executive
Highlight: The clear highlight for me was Greg Gifford's talk; Facebook personalisation and hyper-localisation is always interesting. But Greg's strength is that he's a head above the rest when it comes to delivering engaging presentations.
Top Tip: Make sure to get there early if the room capacity is under 200, follow everyone live tweeting – oh, and The Seven Stars is the best pub in 5 minutes walking distance!
Claudia – PR and Outreach Executive
Highlight: The session I most enjoyed was Aisha Kellaway's "5 ways to use PR"- despite already having a degree in PR, I really learnt a lot from it and she was a fantastic speaker, too!
Top Tip: My biggest learning is to take a notebook, I ended up tweeting the things I wanted to remember rather than being able to write them down. Not necessarily a bad thing, though- I gained a few followers!
Felix – Senior SEO Analyst
Highlight: Nils De Moor delivered a fascinating talk about the evolution of the HTTP (Hyper Text Transfer Protocol) over time (this technology allows communication between webservers and web users) and the benefits of the HTTP/2 like client security, prioritising requests, compression (load faster), client server push and multiplexing."
Top Tip: Make sure to ask any questions you have, and ask the right person- Brighton SEO is the perfect opportunity to take advantage of other's knowledge.
And so, the digital marketer's Christmas is over for another year – what does next year hold? Why not tweet us or drop us a line with your predictions…